by Sherif M. Awad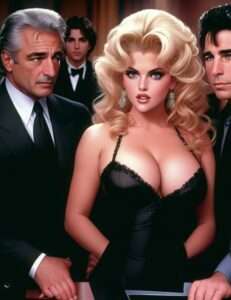 Losing a child is one of the most heartbreaking and traumatic experiences for anyone, especially for a celebrity who has to deal with the public eye and the media. How do they cope with such a tragic loss? What can we learn from them?
In this article, we will explore how celebrities deal with the loss of their children and what challenges and opportunities they face along the way. We will look at the causes of death, the emotional impact, the coping strategies, and the lessons learned from some of the most famous and influential celebrities who have gone through this ordeal.
Whether you are a fan, a friend, or a fellow parent, you may find some inspiration, comfort, or insight from these stories of grief and resilience.
Causes of Death
One of the most painful questions that a parent who loses a child may ask is: why? The causes of death for celebrities' children vary widely, from natural causes to accidents to intentional harm. Some examples are:
John Travolta and Kelly Preston lost their 16-year-old son, Jett, in 2009 due to a seizure caused by Kawasaki disease, a rare condition that affects the blood vessels.
Sylvester Stallone lost his 36-year-old son, Sage, in 2012 due to a heart attack caused by atherosclerosis, a buildup of plaque in the arteries.
Eric Clapton lost his 4-year-old son, Conor, in 1991 due to an accident when he fell out of a 53rd-floor window of a New York apartment building.
Anna Nicole Smith lost her 20-year-old son, Daniel, in 2006 due to a drug overdose of Zoloft, Lexapro, and methadone.
Mary Tyler Moore lost her 24-year-old son, Richard, in 1980 due to a gunshot wound that was ruled accidental when he was handling a shotgun.
According to the Centers for Disease Control and Prevention (CDC), the leading causes of death for children and adolescents in the United States in 2019 were unintentional injuries (39.6%), suicide (13.8%), and homicide (11.7%). The causes of death for celebrities' children may reflect or differ from these trends depending on various factors such as age, lifestyle, environment, or access to resources.
The cause of death may also affect how the parent grieves and copes with the loss. For instance, some parents may feel more guilt or anger if the death was preventable or intentional, while others may feel more shock or denial if the death was sudden or unexpected. The cause of death may also influence how the parent seeks justice or closure, such as pursuing legal action or raising awareness.
One of the most recent and shocking cases of a celebrity losing their child is that of Robert De Niro, who mourned the death of his 19-year-old grandson, Leandro De Niro Rodriguez, in July 2023. Leandro was the son of De Niro's eldest daughter, Drena De Niro, and artist Carlos Rodriguez. He was also an aspiring actor and director who had appeared in films such as A Star Is Born (2018) and Cabaret Maxime (2018).
The cause of Leandro's death was not disclosed by the family, who expressed their grief and love for him on social media. Drena De Niro wrote on Instagram: "You have been my joy my heart and all that was ever pure and real in my life. I don't know how to live without you but I'll try to go on and spread the love and light that you so made me feel in getting to be your mama. You were so deeply loved and appreciated and I wish that love alone could have saved you." Robert De Niro also released a statement saying: "I am deeply distressed by the loss of my beloved grandson, Leandro. He was a wonderful young man with a bright future ahead of him. He will be greatly missed by all who knew and loved him.
Emotional Impact
Losing a child is one of the most devastating and traumatic experiences for any parent, and celebrities are no exception. The emotions that they go through may range from shock, denial, depression, anxiety, to PTSD, depending on the circumstances and stages of their grief. Some celebrities have bravely spoken out about their feelings and struggles after losing their children, such as:
John Travolta who said that his faith helped him cope with the loss of his son Jett: "I will forever be grateful to Scientology for supporting me for two years solid, I mean Monday through Sunday. They didn't take a day off, working through different angles of the techniques to get through grief and loss, and to make me feel that finally I could get through a day."
Sylvester Stallone who expressed his regret over not spending more time with his son Sage: "I just want to respect his memory and I think that the time has come for that. When a parent loses a child there is no greater pain. Therefore I am imploring people to respect my talented son's memory and feel compassion for his loving mother Sasha."
Eric Clapton who shared his sadness and guilt over his son Conor's death: "I almost subconsciously used to smash and crash around and then somewhere around the millennium I realised I had really wasted a lot of years. It was quite obvious that I had to sober up and grow up. And I did. But it was too late to be a dad to Conor."
Anna Nicole Smith who spiraled into despair and addiction after her son Daniel's death: "I don't understand why God took him and didn't take me. He was only 20 years old … He was my baby. He was my everything."
Mary Tyler Moore who showed resilience and hope after her son Richard's death: "You don't get over it but you do get through it. It's something that never leaves you but you assimilate it into your life."
The emotional impact of losing a child may also be influenced by the public scrutiny and media attention that celebrities face. Some celebrities may feel pressured to hide their emotions or act in a certain way to meet the expectations of their fans or critics. Others may feel violated or harassed by the paparazzi or tabloids who invade their privacy or spread rumors. Some celebrities may also face backlash or blame from the public or their peers for their child's death or their coping methods.
Coping Strategies
Celebrities who lose their children may use different coping strategies to deal with their loss, depending on their personality, culture, or beliefs. Some of these strategies may be helpful and healthy, while others may be harmful or risky. Some examples of coping strategies that celebrities have used are:
Therapy: Some celebrities may seek professional help from therapists, counselors, or psychologists to process their emotions and heal their trauma. For example, John Travolta credited Scientology for supporting him for two years after his son Jett's death.
Support groups: Some celebrities may join support groups with other parents who have lost their children, or with people who share their faith or values. For example, Sylvester Stallone joined a support group for bereaved fathers after his son Sage's death.
Spirituality: Some celebrities may turn to their religion or spirituality to find comfort, meaning, or hope after losing their child. For example, Eric Clapton said that his faith in God helped him cope with his son Conor's death.
Charity work: Some celebrities may dedicate their time and resources to charity work or causes related to their child's death or legacy. For example, Anna Nicole Smith founded the Daniel Wayne Smith Foundation to help drug addicts after her son Daniel's death.
Creative outlets: Some celebrities may express their grief and honor their child through creative outlets such as music, art, or writing. For example, Mary Tyler Moore wrote a memoir titled After All about her life and her son Richard's death.
However, some coping strategies may also pose challenges or risks for celebrities who lose their children. For instance, some celebrities may resort to substance abuse, isolation, or self-harm to numb their pain or escape their reality. Others may face backlash or criticism from the public or their peers for their coping methods or choices. Some celebrities may also struggle to balance their personal and professional lives after losing their child.
Lessons Learned
Celebrities who cope with losing their children may also learn some valuable lessons from their experience, and share them with others who are going through a similar situation or know someone who is. Some of these lessons may be:
Seeking professional help: Some celebrities may encourage others to seek professional help from therapists, counselors, or psychologists if they are struggling with their grief or trauma. For example, Chrissy Teigen said that she went to therapy after losing her baby boy, Jack, due to pregnancy complications.
Finding support: Some celebrities may emphasize the importance of finding support from family, friends, or other parents who have lost their children, and not isolating themselves or feeling ashamed of their emotions. For example, Joe Biden said that he found comfort and strength from his sons Beau and Hunter after his wife Neila and their daughter Naomi were killed in a car accident.
Expressing emotions: Some celebrities may advise others to express their emotions openly and honestly, and not bottle them up or suppress them. For example, John Legend said that he wrote a song for his son Jack as a way of expressing his grief and love.
Honoring memories: Some celebrities may suggest others to honor the memories of their children by celebrating their lives, keeping their photos or belongings, or creating something in their name. For example, Eric Clapton said that he created a foundation for children in need after his son Conor's death.
Finding meaning: Some celebrities may inspire others to find meaning or purpose in their loss by turning it into an opportunity to help others, raise awareness, or advocate for a cause. For example, Anna Nicole Smith said that she founded a foundation for drug addicts after her son Daniel's death.
Celebrities who cope with losing their children may also inspire others with their courage, strength, and compassion. They may use their platform to break the silence and stigma around child loss, and to show that they are not alone in their pain. They may also use their influence to make a positive difference in the world by supporting charities or causes related to their child's death or legacy.