by Sherif M. Awad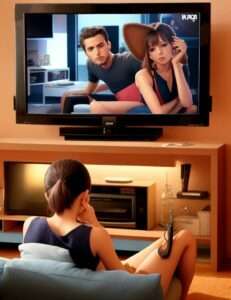 Streaming services
are online platforms that allow you to watch or listen to various types of media content, such as movies, TV shows, music, podcasts, and more.
Streaming services
have become increasingly popular in recent years, as they offer a convenient, affordable, and diverse way to enjoy entertainment. According to a report by Grand View Research, the global video streaming market size was valued at $50.11 billion in 2020 and is expected to grow at a compound annual growth rate (CAGR) of 21% from 2021 to 2028. Similarly, the global audio streaming market size was valued at $26.75 billion in 2019 and is expected to grow at a CAGR of 17.8% from 2020 to 2027.
People use streaming services for various reasons, such as:
Convenience: Streaming services allow you to access your favorite content anytime and anywhere, as long as you have an internet connection and a compatible device. You can also download some content for offline viewing or listening.
Affordability: Streaming services are generally cheaper than cable or satellite TV subscriptions, and often offer free trials or discounts for new or loyal customers. You can also choose from different plans or packages that suit your budget and needs.
Variety: Streaming services offer a wide range of content genres, languages, formats, and styles, catering to different tastes and preferences. You can also discover new content through recommendations, ratings, reviews, or curated playlists.
Personalization: Streaming services allow you to customize your viewing or listening experience by creating profiles, adjusting settings, skipping ads, choosing subtitles or audio options, or creating your own playlists or watchlists.
Original content: Streaming services produce their own exclusive content that is not available on other platforms or channels. Some of these original content have become critically acclaimed and popular among audiences.
The Different Types of Streaming Services
Streaming services can be categorized into three main groups based on their business models:
Subscription-based: These are streaming services that charge a monthly or annual fee for unlimited access to their content library. Some examples are Netflix, Hulu, Disney+, Amazon Prime Video, HBO Max, Apple TV+, Peacock, Paramount+, Discovery+, Spotify, Apple Music, Tidal, Deezer, Audible, and Scribd.
Ad-supported: These are streaming services that offer free or low-cost access to their content library in exchange for showing ads to their users. Some examples are YouTube, Tubi, Pluto TV, Crackle, IMDb TV,
Plex,
SoundCloud,
Pandora,
and Stitcher.
Pay-per-view: These are streaming services that charge a one-time fee for renting or buying individual titles or events. Some examples are Amazon Prime Video,
iTunes,
Google Play Movies & TV,
Vudu,
FandangoNOW,
YouTube Premium,
and UFC Fight Pass.
The Comparison of Streaming Services
The following table shows a comparison of some of the most popular streaming services based on their features,
prices,
content libraries,
and user ratings:
Sure, here is the table again:
Streaming Service
Type
Price (per month)
Content Library (approximate)
User Rating (out of 5)
Netflix
Subscription-based
$8.99-$17.99
13,000 titles (movies and TV shows)
4.4
Hulu
Subscription-based
$5.99-$64.99
4,000 titles (movies and TV shows) + live TV channels
4.1
Disney+
Subscription-based
$7.99-$13.99
1,000 titles (movies and TV shows) + ESPN+ and Hulu
4.6
Amazon Prime Video
Subscription-based and pay-per-view
$8.99-$12.99
23,000 titles (movies and TV shows) + Prime benefits
4.3
HBO Max
Subscription-based
$9.99-$14.99
10,000 titles (movies and TV shows)
4.2
Apple TV+
Subscription-based
$4.99
100 titles (movies and TV shows)
3.9
Peacock
Subscription-based and ad-supported
$0-$9.99</
20,000 titles (movies and TV shows) + live sports and news
<
/
/
/
/
/
/
/
/
/
/
/
/
/
/
/
/
/
/
/
/
/
/
/
/
/

/

/

/

/

/

/

/

/

/

/

/

/

/

/

/

/

/

/

/

/

4.0
<
/
/
/
/
/
/
/
/
/
/
/
/
/
/
/
/
/
/
/
/
/
/
/

/tr>

Paramount+
<
/
/
/
/
/
/
/
/
/
/
/
/
/
/
/
/
/
/
/
/
Subscription-based and ad-supported
<
/
$4.99-$9.99
<
/
30,000 titles (movies and TV shows) + live sports and news
<
/
3.8
<
/
/tr>

Discovery+

<

/

/

/

/

/

/

/

/

/

/

/

/

/

/

/

/

/

/

/

/

Subscription-based and ad-supported

<

/

$4.99-$6.99

<

/

55,000 titles (movies and TV shows) + live sports and news

<

/

4.5

<

/

/tr>

Spotify

<

/

/

/

/

/

/

/

/

/

/

/

/

/

/

/

/

/

/

/

/

Subscription-based and ad-supported

<

/

$0-$14.99

<

/

70 million tracks (music and podcasts)

<

/

4.5

<

/

/tr>

Apple Music

<

/

/

/

/

/

/

/

/

/

/

/

/

/

/

/

/

/

/

/<

Subscription-based

<

/<

$9.99-$14.99

<

/<

75 million tracks (music and podcasts)

<

/<

4.3

<

/<

/tr>

Tidal

<

/

/

/

/

/

/

/

/

/

/

/

/

/

/

/

/

/

/

/<

Subscription-based

<

/<

$9.99-$29.99

<

/<

70 million tracks (music and podcasts) + high-fidelity sound quality and exclusive content

<

/<

3.7

<

/<

/tr>

Deezer

<

/

/

/

/

/

/

/

/

/

/

/

/

/

//

//

//

//

//

/<

Subscription-based and ad-supported

<

/<

$0-$14.99

<

/<

73 million tracks (music and podcasts) + high-fidelity sound quality and personalized recommendations

<

/<

4.1

<

/<

/tr>

Audible

<

/

/

/

/

/

/

/

/

/

/

/

/

/

/

/

/

/

/

/

/

Subscription-based

<

/

$7.95-$22.95

<

/

500,000 titles (audiobooks and podcasts)

<

/

4.4

<

/

/tr>