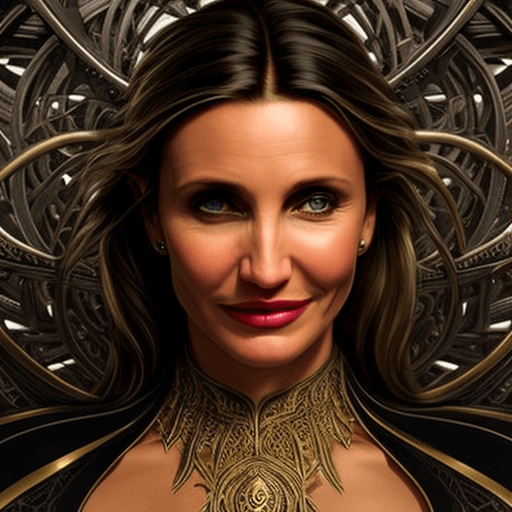 Hollywood is often seen as the ultimate destination for actors and celebrities, but not everyone wants to stay there forever. Some stars choose to leave the glitz and glamour of Los Angeles and start new lives in different places, either to raise their families, pursue other passions, or simply enjoy some peace and quiet. Here are some of the famous faces who have moved out of Hollywood and where they live now.
Cameron Diaz
One of the biggest stars of the '90s and 2000s, Cameron Diaz retired from acting in 2018 and became a mother in 2019. She welcomed her daughter Raddix with her husband Benji Madden, the guitarist of Good Charlotte. The couple live in a gated community in Beverly Hills, California, but they also have a property in New York City. Diaz has been focusing on her wellness brand, The Body Book, and her wine label, Avaline.
Diaz made her film debut in 1994's The Mask, opposite Jim Carrey, and became an instant star. She went on to appear in comedies like There's Something About Mary, Charlie's Angels, and The Holiday, as well as dramas like Vanilla Sky, Gangs of New York, and The Counselor. She also voiced Princess Fiona in the Shrek franchise. She was one of the highest-paid actresses in Hollywood, earning up to $20 million per film.
However, Diaz decided to step away from the spotlight after starring in 2014's Annie. She later revealed that she felt burnt out and exhausted from the constant pressure and scrutiny of being a celebrity. She also wanted to have more control over her life and happiness. She married Madden in 2015 and gave birth to their daughter four years later. She has since written two books on health and wellness, The Body Book and The Longevity Book, and launched her own organic wine brand, Avaline, with her friend Katherine Power.
Diaz has said that she does not miss performing and that she is very fulfilled by her current lifestyle. She has also praised Madden as the best thing that ever happened to her and said that motherhood is the most rewarding experience of her life. She occasionally makes appearances on social media or podcasts, but she has no plans to return to acting anytime soon.
Rick Moranis
Rick Moranis was a comedy legend in the '80s, starring in movies like Ghostbusters, Spaceballs, and Honey, I Shrunk the Kids. He left Hollywood in 1997 to focus on raising his two children after his wife died of cancer. He moved to New York City, where he still lives today. He has done some voice work and music projects over the years, but he has not appeared on the big screen since 1997. However, he may make a comeback soon for a new Honey, I Shrunk the Kids film called Shrunk, with Josh Gad playing his son.
Moranis started his career as a radio DJ and comedian in Canada. He joined the cast of the Canadian sketch comedy show SCTV in 1980 and won an Emmy for his writing. He then moved to Hollywood and starred in several hit movies with other comedy icons like Steve Martin, John Candy, Mel Brooks, and Bill Murray. He was known for his nerdy and goofy characters, such as Louis Tully in Ghostbusters, Dark Helmet in Spaceballs, Barney Rubble in The Flintstones, and Wayne Szalinski in Honey, I Shrunk the Kids.
However, Moranis faced a personal tragedy when his wife Ann died of breast cancer in 1991 at the age of 35. He was left alone to raise their two young children, Rachel and Mitchell. He decided to take a break from acting after filming 1997's Honey, We Shrunk Ourselves direct-to-video sequel. He said that he wanted to be a full-time dad and that he did not enjoy working on big-budget movies anymore. He also said that he did not receive any good offers that would make him want to return to Hollywood.
Moranis has kept a low profile since then, but he has occasionally done some voice work for animated films like Brother Bear and TV shows like The Goldbergs. He has also released two comedy albums as his SCTV character Bob McKenzie: The Agoraphobic Cowboy in 2005 and My Mother's Brisket & Other Love Songs in 2013. He was also involved in a viral video with Ryan Reynolds for Mint Mobile in 2020.
Moranis has said that he is not retired from acting and that he is open to doing more projects if they interest him. He has confirmed that he will reprise his role as Wayne Szalinski in Shrunk, a new film in the Honey, I Shrunk the Kids series that will star Josh Gad as his grown-up son. The film is expected to be released on Disney+ in 2022.
Phoebe Cates
Phoebe Cates was the crush of many teenagers in the '80s, thanks to her iconic role in Fast Times at Ridgemont High. She also starred in the Gremlins films and married actor Kevin Kline in 1989. The couple have two children, Greta and Owen, who are both musicians. Cates left Hollywood in 1994 and opened a boutique called Blue Tree in New York City, where she lives with her family. She made a cameo appearance in 2001's The Anniversary Party as a favor to her friend Jennifer Jason Leigh.
Cates began her career as a model and a singer in the late '70s. She made her film debut in 1982's Paradise, a teen adventure film that was criticized for its nudity and sexual content. She gained fame and popularity for her role as Linda Barrett in 1982's Fast Times at Ridgemont High, especially for her memorable pool scene. She then starred in other teen comedies like Private School and Baby Sister, as well as horror-comedies like Gremlins and Gremlins 2: The New Batch.
Cates met her future husband Kevin Kline, who is 16 years older than her, at an audition for 1983's The Big Chill. They started dating in 1985 and got married in 1989. They have two children, Greta (born in 1989) and Owen (born in 1991), who are both indie musicians. Greta performs under the name Frankie Cosmos, while Owen is part of the band Krill.
Cates decided to retire from acting after starring in 1994's Princess Caraboo, a historical comedy-drama that she also co-produced. She said that she wanted to focus on her family and that she did not miss acting at all. She only made one exception in 2001, when she appeared in The Anniversary Party, a film directed by her friend and Fast Times co-star Jennifer Jason Leigh.
Cates has also pursued her passion for fashion and retail by opening a boutique called Blue Tree on Madison Avenue in New York City in 2005. The store sells clothing, jewelry, home decor, books, toys, and other eclectic items. Cates has said that she enjoys running the store and that it is a creative outlet for her.
Michael Schoeffling
Michael Schoeffling played Jake Ryan, the dreamy love interest of Molly Ringwald's character in Sixteen Candles. He also appeared in nine more films, including Vision Quest and Mermaids. He left Hollywood in the early '90s and moved to Pennsylvania with his wife and two children. He opened a woodworking shop and makes handcrafted furniture. He has not acted since 1991 and has avoided the public eye ever since.
Schoeffling was a model and a wrestler before he became an actor. He made his film debut in 1984's Sixteen Candles, directed by John Hughes, and became an instant heartthrob. He then starred in other films like Sylvester, Vision Quest, Let's Get Harry, Slaves of New York, Longtime Companion, and Mermaids. He also dated his Mermaids co-star Winona Ryder for a while.
Schoeffling decided to quit acting after his last film, 1991's Wild Hearts Can't Be Broken. He said that he was frustrated by the lack of good roles and that he wanted to provide a stable income for his family. He moved to northeastern Pennsylvania with his wife Valerie Robinson, a former model, and their two children Zane (born in 1988) and Scarlett (born in 1990). Scarlett is also an actress who has appeared in films like Gossip Girl and The Happening.
Schoeffling opened a woodworking shop and started making handcrafted furniture for local customers. He has also built houses and boats with his skills. He has not given any interviews or attended any events since he left Hollywood. He has also refused to sign autographs or take photos with fans who recognize him.
Other Stars Who Moved Away From Hollywood
These are not the only stars who have left Hollywood and started new lives elsewhere. Some other examples are:
Sandra Bullock, who lives in Austin, Texas with her two children Louis (adopted in 2010) and Laila (adopted in 2015). She also ownsseveral businesses in Austin, such as a bakery, a restaurant, and a production company. She also has homes in New Orleans, Los Angeles, and Georgia. She is one of the most successful actresses in Hollywood, with films like Speed, Miss Congeniality, The Blind Side, Gravity, and Bird Box.
Julia Roberts, who moved to Taos, New Mexico with her husband Danny Moder and their three kids Hazel, Phinnaeus, and Henry in 2009. She also has properties in Malibu, California and Manhattan, New York. She is one of the highest-paid actresses in Hollywood, with films like Pretty Woman, Erin Brockovich, Notting Hill, Ocean's Eleven, and Wonder.
Nicole Kidman and Keith Urban, who raise their two daughters Sunday and Faith in Nashville, Tennessee. They also have homes in New York City, Australia, and Beverly Hills. Kidman is an Australian-born actress who has won an Oscar for The Hours and has starred in films like Moulin Rouge!, The Others, Cold Mountain, Lion, and Big Little Lies. Urban is a New Zealand-born country singer who has won four Grammys and has sold over 20 million albums worldwide.
Ryan Reynolds and Blake Lively, who live in a farmhouse in Bedford, New York with their three children James, Inez, and Betty. They also have a home in Los Angeles. Reynolds is a Canadian-born actor who has starred in films like Deadpool, The Proposal, The Hitman's Bodyguard, and Free Guy. Lively is an American actress who has starred in films like The Sisterhood of the Traveling Pants, The Town, The Age of Adaline, and A Simple Favor.
Mark Wahlberg, who relocated to Austin, Texas with his wife Rhea Durham and their four kids Ella, Michael, Brendan, and Grace in 2021. He also has a home in Beverly Hills. He is an actor-producer who has starred in films like Boogie Nights, The Departed, Ted, Lone Survivor, and Transformers. He also owns several businesses, such as a burger chain, a car dealership, a clothing line, and a production company.
Tom Holland, who bought a house in London, England with his girlfriend Zendaya in 2021. He also has a home in Los Angeles. He is an English actor who plays Spider-Man in the Marvel Cinematic Universe. He has also starred in films like The Impossible, In the Heart of the Sea, The Lost City of Z, and Chaos Walking.
Joe Jonas and Sophie Turner, who moved to Miami, Florida with their daughter Willa in 2020. They also have a home in Los Angeles. Jonas is an American singer who is part of the pop band Jonas Brothers. He has also appeared in films like Camp Rock and TV shows like The Voice. Turner is an English actress who played Sansa Stark in Game of Thrones. She has also appeared in films like X-Men: Apocalypse and Dark Phoenix.
These stars prove that you don't have to live in Hollywood to be successful or happy. Sometimes, a change of scenery can be just what you need.