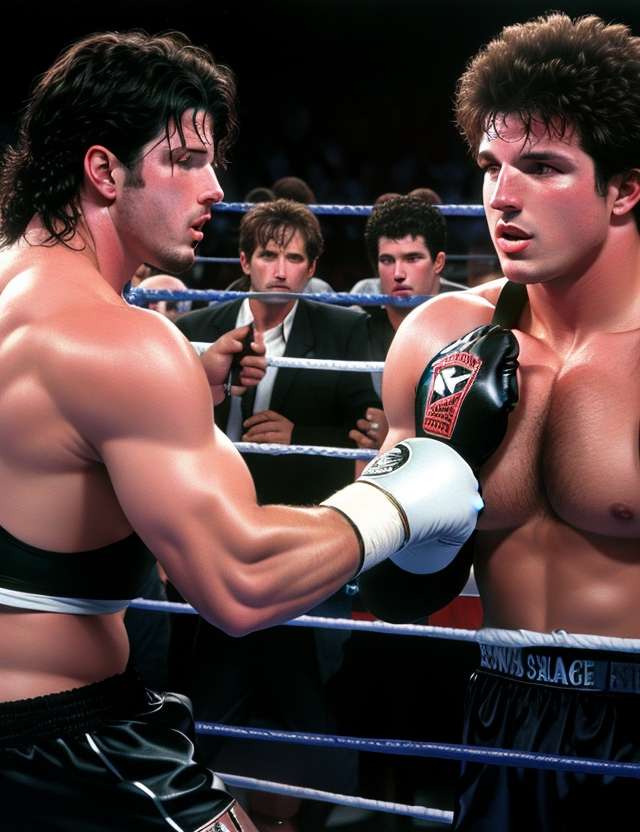 I. Introduction
Rocky V" is the fifth installment in the iconic "Rocky" film series, released in 1990. It follows the story of Rocky Balboa, the world heavyweight champion, who is forced to retire from boxing after suffering brain damage from his fight with Ivan Drago in the previous film. He returns to his hometown of Philadelphia, where he faces financial troubles and family issues. He also takes on a young protégé named Tommy Gunn, who becomes corrupted by fame and fortune and betrays Rocky. The film ends with a street fight between Rocky and Tommy, where Rocky emerges victorious and reconciles with his family.
The film received mixed reviews from critics and fans alike, who criticized its plot, tone, and continuity errors. It was also a box office disappointment, grossing only $119.9 million worldwide, making it the lowest-grossing film in the series. However, it remains a significant part of the franchise's history, as it marked the final appearance of Talia Shire as Adrian Balboa and Burgess Meredith as Mickey Goldmill, Rocky's wife and trainer respectively. It also introduced Sage Stallone and Tommy Morrison as Rocky's son and protégé respectively, two promising actors who would later face tragic declines in their careers and lives.
This article delves into the curse of "Rocky V" and its impact on Sage Stallone and Tommy Morrison, who played Robert Balboa Jr. and Tommy Gunn respectively. It explores their backgrounds, performances, achievements, challenges, and untimely deaths. It also reflects on their legacy and contribution to the film industry and the "Rocky" franchise.
II. Sage Stallone: A Promising Filmmaker Cut Short
Sage Stallone was born on May 5, 1976, as the eldest son of Sylvester Stallone and his first wife Sasha Czack. He grew up in Los Angeles, where he developed an interest in acting and filmmaking. He made his film debut in "Rocky V" at the age of 14, playing Rocky's son Robert Jr., who struggles with his father's absence and neglect. He reprised his role in a cameo appearance in "Daylight" (1996), another film starring his father.
Sage Stallone's portrayal of Robert Jr. showcased his acting abilities and potential. He effectively brought the character to life, capturing the frustration, resentment, and eventual forgiveness of Rocky's son. He also had a natural chemistry with his father on screen, creating a believable father-son relationship. He received positive reviews from critics and fans for his performance, earning him a nomination for the Young Artist Award for Best Young Actor Co-starring in a Motion Picture.
However, Sage Stallone faced challenges in the film industry due to the inevitable comparisons to his father. Breaking free from his father's shadow was an uphill battle, and despite his potential, he struggled to carve out a distinct identity as an actor. He appeared in a few more films, such as "The Evil Inside Me" (1993), "American Hero" (1997), "Reflections of Evil" (2002), and "Moscow Zero" (2006), but none of them achieved much success or recognition.
Apart from acting, Sage Stallone also pursued his passion for filmmaking behind the camera. He studied filmmaking at the University of North Carolina School of the Arts for two years before dropping out to focus on his own projects. He directed, produced, wrote, and starred in several short films, such as "Vic" (2006), which won him the Best New Filmmaker Award at the Boston Film Festival. He also co-founded Grindhouse Releasing, a company dedicated to preserving and distributing exploitation films, B-movies, and cult films. He was especially fond of Italian horror films by directors such as Lucio Fulci and Ruggero Deodato, whose works he restored and re-released.
Tragically, Sage Stallone's promising career was cut short when he passed away in 2012 at the age of 36 due to heart disease caused by atherosclerosis. His untimely death left a void in the industry, robbing us of the opportunity to witness his continued growth and potential as an actor and filmmaker. His funeral was held at St. Martin of Tours Catholic Church in Los Angeles, where he was buried at Westwood Village Memorial Park Cemetery.
III. Tommy Morrison: A Fallen Champion
Tommy Morrison was born on January 2, 1969, as an illegitimate son of Tim Morrison and Diana Clayton. He grew up in Jay, Oklahoma, where he excelled in sports such as football and wrestling. He also developed an interest in boxing after learning that he was related to John Wayne, who was his great-uncle. He started his professional boxing career in 1988, winning his first 28 fights by knockout. He gained fame and popularity for his power, charisma, and resemblance to the Hollywood star.
Tommy Morrison's boxing skills and personality caught the attention of Sylvester Stallone, who cast him as Tommy Gunn in "Rocky V". Tommy Gunn is a talented young boxer who becomes Rocky Balboa's protégé but eventually succumbs to the allure of fame and fortune. He abandons Rocky and falls under the influence of a manipulative promoter, George Washington Duke, who convinces him to challenge Rocky for the title of the real champion. He loses the respect of the public and faces Rocky in a street fight, where he is defeated and humiliated.
Tommy Morrison's role as Tommy Gunn was his first and only acting role. He transitioned from boxing to acting with ease, bringing a sense of realism and authenticity to the character. He also trained with Sylvester Stallone and learned from his experience and advice. He received mixed reviews from critics and fans for his performance, some praising him for his natural talent and others criticizing him for his lack of depth and emotion.
However, Tommy Morrison's acting career did not take off after "Rocky V. He returned to boxing, where he achieved more success and recognition. He won the WBO heavyweight title in 1993, defeating George Foreman by unanimous decision. He also starred in a documentary film called "Tommy Morrison: The Duke" (1999), which chronicled his life and career. He was considered one of the top contenders in the heavyweight division, with a record of 48 wins and 3 losses.
Unfortunately, Tommy Morrison's downfall from fame and fortune came as a result of drug abuse, legal troubles, and HIV diagnosis. He tested positive for HIV in 1996, which effectively ended his boxing career. He denied having the virus and claimed that it was a false positive or a conspiracy against him. He continued to use drugs and alcohol, which worsened his health and behavior. He was arrested several times for various offenses, such as assault, DUI, and weapons possession. He also attempted to make a comeback to boxing several times, but failed to pass the medical tests or secure a license.
Tommy Morrison's death in 2013 from AIDS-related complications at age 44 was a tragic end to a promising career and life. He left behind four children from different relationships, who inherited his boxing genes and followed in his footsteps. His funeral was held at First Baptist Church in Jay, Oklahoma, where he was buried at Duffield Cemetery.
IV. The Curse of Rocky V
The notion of the "Rocky V curse" emerged as an unfortunate pattern associated with the actors involved in the film. Many of them faced personal and professional challenges after their involvement in the project, which prevented them from achieving further success or happiness. Some even died prematurely or tragically, leaving behind a legacy of sorrow and regret.
Actors associated with "Rocky V" encountered difficulties in breaking free from their characters or the film's shadow, making it challenging to find diverse roles and establish successful careers beyond the franchise. Some were typecast or stereotyped as boxers or fighters, while others were overshadowed by their more famous co-stars or relatives. Some also struggled with substance abuse or mental health issues, which affected their performance and reputation.
The curse of "Rocky V" had a profound impact on Sage Stallone's and Tommy Morrison's career trajectories. Despite their talents and potential, they struggled to escape the long-lasting shadow cast by the film, hindering their ability to secure significant roles and establish themselves as actors in their own right. They also faced personal problems that affected their health and well-being, leading to their untimely deaths at young ages.
While the curse phenomenon is subjective and speculative, industry professionals and experts have acknowledged the challenges faced by actors who were part of "Rocky V", further highlighting the unfortunate effect it had on their careers and lives. Some have even suggested that the