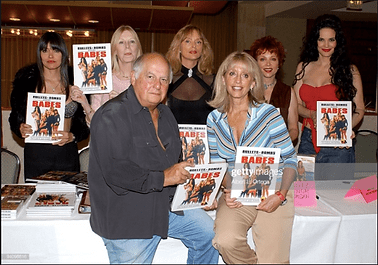 In the world of action B-movies, director Andy Sidaris was a trailblazer. During his prolific career spanning three decades, Sidaris crafted his own unique, explosive brand of action films filled with beautiful women, over-the-top stunts, copious gunfights, and plenty of cheeky humor. Though he got his start in television, Sidaris made a name for himself as the "King of Bullets and Bombshells", leaning into his passion for filming fast cars, high-flying helicopters, and scantily clad actresses. With his consistency in churning out formulaic yet entertaining flicks on a budget, Sidaris gained a widespread cult following that continues to appreciate his lowbrow legacy today.
Born in 1931, Andy Sidaris originally had no intentions of entering the B-movie business. He began his career as a sports television director, helming coverage of major events like the Olympics and the Super Bowl. Sidaris then shifted gears in the late 1970s, drawn to creating narrative content. He directed episodes of shows like Kojack and The Six Million Dollar Man before getting the chance to helm the pilot for Charlie's Angels in 1976. The major hit gave Sidaris clout in Hollywood, though he yearned to make his own complete films. At age 45, Sidaris left the television world behind to pursue his passion for telling stories on the silver screen.
In the early 1980s, Sidaris embarked on his first movie project - the action film Malibu Express. He leveraged his TV connections to arrange financing for the low-budget picture. The experience made Sidaris realize he relished the freedom of directing his own films on his own terms. Malibu Express delivered the formula he would stick to throughout his career - fast cars, Playboy models, gunfights, and witty one-liners. Though it was no blockbuster, the movie performed well on cable and video. Its success gave Sidaris the chance to direct more action B-movies and flex his creative muscles in the genre.
With his follow-up films Hard Ticket to Hawaii and Picasso Trigger in the late 1980s, Sidaris solidifed his signature style. More importantly, he discovered an endless appetite from global audiences for his special brand of bullets, bombshells, and machismo entertainment. Sidaris had found his niche. While mainstream critics panned his movies as mindless fluff, fans couldn't get enough of the guilty pleasure he delivered with clockwork regularity. Sidaris would end up directing 12 hyper-stylized action films in his career chock-full of bikini-clad women, outrageous stunts, and cheeky one-liners. Though formulaic, Sidaris' movies never failed to deliver uncomplicated escapist fun for B-movie fans.
Signature Style: Bullets, Bombshells, and Helicopters
If there was one directorial style that defined the career of Andy Sidaris, it was his over-the-top action sequences featuring copious amounts of bullets, bombshells, and helicopters. All of Sidaris' 12 B-movies diligently followed the same formulas and motifs no matter how repetitive or absurd they seemed. Scantily clad women? Check. Impossible helicopter stunts? Check. Gratuitous gunfights? Check. As silly as his films could be, Sidaris knew exactly how to deliver the kind of excessive action entertainment his loyal fans craved.
The foundation of any Andy Sidaris extravaganza were the curvaceous actresses he cast in every lead role. Sidaris displayed a clear inclination for showcasing the female form on-screen, whether it be in swimsuits, lingerie or other revealing outfits. Many of his leading ladies came straight from the pages of Playboy Magazine, and Sidaris was more than happy to find any excuse possible to get them in front of the camera in a state of undress. Sidaris was a savvy promoter, selling his movies as escapist fantasies for male viewers seeking beautiful women, fast cars, and gunplay.
Yet the movies were more than just eye candy. Sidaris demonstrated a mastery of action filmmaking on a budget. Despite financial constraints, he managed to pull off remarkably elaborate action set pieces and stunt sequences in every project. While limited resources forced Sidaris to cut corners in some areas like set design and locations, he never skimped on the centerpiece action scenes. The guerrilla filmmaker made do with what he had access to, whether it was a squad of helicopters left over from the Vietnam War or a surplus of fake blood from a closed down amusement park.
A typical Sidaris movie script was built around finding opportunities to feature gunfights, car chases, and helicopter stunts. The "plots" of his films were largely incoherent and non-sensical, but they didn't need to make much sense. All that mattered was moving from one big action sequence to the next while showing off the gorgeous female stars. Fans could always expect copious explosions and gunplay, with characters miraculously escaping certain death time and time again. The action scenes were more parodies than convincing combat, but Sidaris knew his target audience didn't care. As long as the bullets were flying, the bombs were blasting, and the babes were ever-present, the fans were satisfied.
Sidaris also became known for his signature use of helicopters and aviation-based stunts. As a pilot himself, he looked for any opportunity to integrate helicopters into his movies for chase scenes and shootouts. Bullets and bombs weren't the only things raining down from the skies in a Sidaris film. Helicopters regularly swooped in to save the busty heroines from harm while unleashing a barrage of rockets on the villains below. The helicopter action was wholly unrealistic, with innumerable explosions and no thought given to the laws of physics. But Sidaris' enthusiasm for capturing aviation action on a small budget was always evident on screen.
While Sidaris faced his fair share of detractors, the filmmaker never apologized for his artistic choices. He fully embraced his reputation as "King of Bullets and Bombshells", rather than hide from it. Sidaris knew exactly the kind of escapist fun audiences expected from his B-movies. Critics might deride the repetitive motifs and formulaic structure of his work, but Sidaris was proud to continually churn out his signature brand of explosive entertainment for decades.